Manage Repositories (Pop!_OS)
Accessing Repoman
Pop!_OS' tool for adding, removing and editing repositiories is called Repoman which is a part of the Pop!_Shop.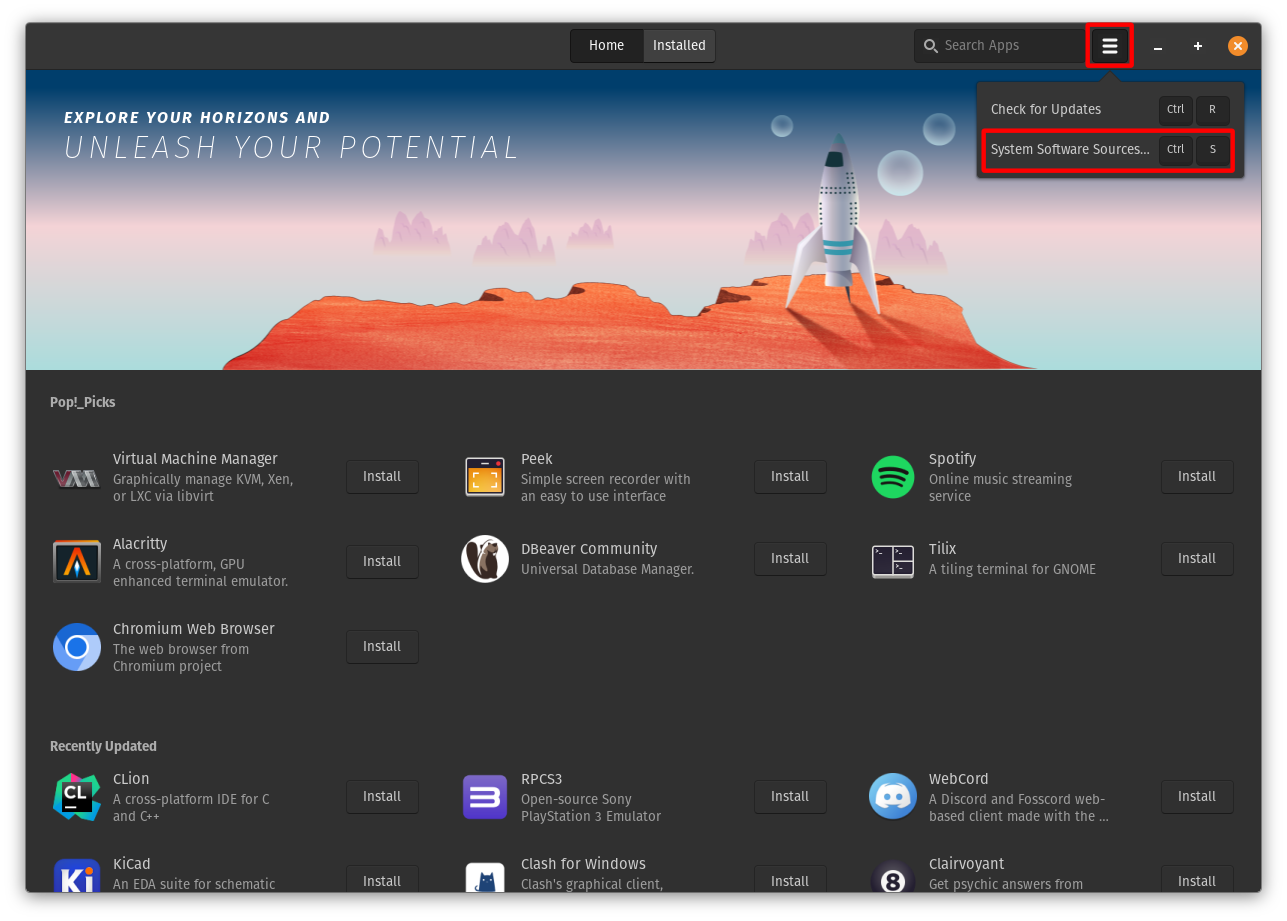 Click on the gear icon in the top right of the Pop!_Shop window. Once Repoman is opened, click on the Extra Sources tab there will be options to add repositories with the Plus button (on the bottom left). Select a repository from the list and then click on the Edit button (next to the Plus button) to edit the selected repository.
Repoman can be also be used to add, remove and edit Flatpak Sources starting with Pop!_OS 20.04 LTS. For command-line use of Flatpak the following commands can be used:
This is used to list the remote/sources configured on your system.
flatpak remote-add --if-not-exists flathub https://dl.flathub.org/repo/flathub.flatpakrepo



This command is used to add a remote/source if it doesn't exist on your system and in this example the Flathub remove/source is being added.
flatpak remote-delete flathub



If we want to remove a remote/source the following command can be used.
This command is used to search for a certain package (inkscape in this case) in the coufigured remotes/sources on this system.
flatpak install flathub org.inkscape.Inkscape



Here we are installing inkscape using the Flathub remote/source.
flatpak uninstall org.inkscape.Inkscape



This will remove the inkscape package from this system.
flatpak run org.inkscape.Inkscape



This command will run inkscape once it is installed on the system.
This will update all of your installed Flatpak applications and runtimes to their latest versions.
This will list all of the installed applications and runtimes.
For more information about Flatpak commands look here.